Mother's Day is just around the corner, and we're deep into planning posts for our clients to celebrate it! While this special day is celebrated on different dates depending on where you are in the world, here in Australia it's celebrated on the second Sunday of May. 
It's usually a day for mothers and their children to spend quality time over brunch, or for mums to enjoy a lovely day of pampering at a spa. However, this year's celebrations are a bit different – Mums with young children will have to stay at home with their little ones in isolation, while mums with adult children (who have fled the nest), will likely have to spend the day without their children by their side.
That's why it's more important than ever for mothers to be shown appreciation in the digital space!
Mother's Day is the one day in the calendar year where brands can show their appreciation for the women who dedicate their life to nurturing the future leaders of the world. Since in-person celebrations are largely impossible, it's especially vital that your business creates Mother's Day content that engages your audience and adds a little bit of light and positivity to our world.
If you have no idea where to start, here are 8 ideas for Mother's Day posts that you can share on your social media platforms come May!
Words: Adriana Thani
1. Shout-out to your mama
We always recommend that clients show their faces on their feed to allow their audience to feel connected to their brand. It's so important that your followers get to know you on a personal level in some way, so give your mum a shout-out on your Instagram for Mother's Day!
 
If you have a team, share their photos too. Ask that everyone share a photo of their mum – or even better – a photo with their mum, and share them as carousel posts on your grid for Mother's Day.
2. A giveaway for Mother's Day
Whether you offer a product or a service, a giveaway is one of the best ways to encourage audience engagement! Hosting a giveaway on Instagram is simple (as long as you do it the right way) and a great opportunity to expose your brand to a new audience!
Here are some different options for call-to-actions you can use for your Mother's Day giveaway:
Ask your audience to comment with their favourite lesson their mother taught them
Ask your audience to upload an image of themselves with their mum, and tag the brand in the post along with a specific competition hashtag
Ask your audience to 'fill in the blanks'. For example: Answer in 50 words or less: "My mum's best talent is…"
3. A photo contest on Instagram Stories
Instagram Stories has become one of the most-used tools by Instagram users, and for good reason! It's a great way to catch up on the accounts you are following, and for brands, it is a fantastic way to reach an audience without dealing with the ever-changing algorithms of the Instagram feed.
One way you can use Instagram Stories on Mother's Day is by hosting a photo contest (with a prize for a randomly picked winner). Make sure that one of the requirements is to tag your brand and use a specific competition hashtag so you can keep track of entries! And definitely share all the entries on your own Stories too.
4. Share what motherhood means to you
If you're a mum yourself, make sure you share your own thoughts on motherhood on this special day. It is often said that being a mother is one of the toughest yet rewarding experiences in life, and every mum has their own take on their unique experience as a mother.
Your take on motherhood can be one of the most genuine and poignant things you may share on your brand's Instagram, and it can be very meaningful to your audience to see that side of you. Of course, your own story doesn't have to be moving or poignant if that's not what you or your brand is about. It can be humorous or even sarcastic! Just make sure to keep it positive and uplifting.
5. Create Mother's Day story templates
Story templates are becoming one of the most popular content types that brands can produce! They are inherently share-able, and people enjoy typing in their own responses and sharing them with friends.
Here are some ideas on the kinds of templates you can create:
Dear Mum – Allow users to write little letters to their mums
The best advice my mum gave me – Users can share their favourite advice from their mum
Funniest mum moment – Mums can share the funniest mum moments they've experienced
What my kids think about me – Mums can fill these out with their kids' responses to questions like "How old am I?" or "What's my favourite food?"
Always remember to pop your username on the template to make sure people can discover your brand. Make sure you use your brand colours and fonts too, and don't forget to leave space for users to tag their friends!
Here's a template we've created for Mother's Day – simply save it onto your phone, type up some answers on Stories, and share it!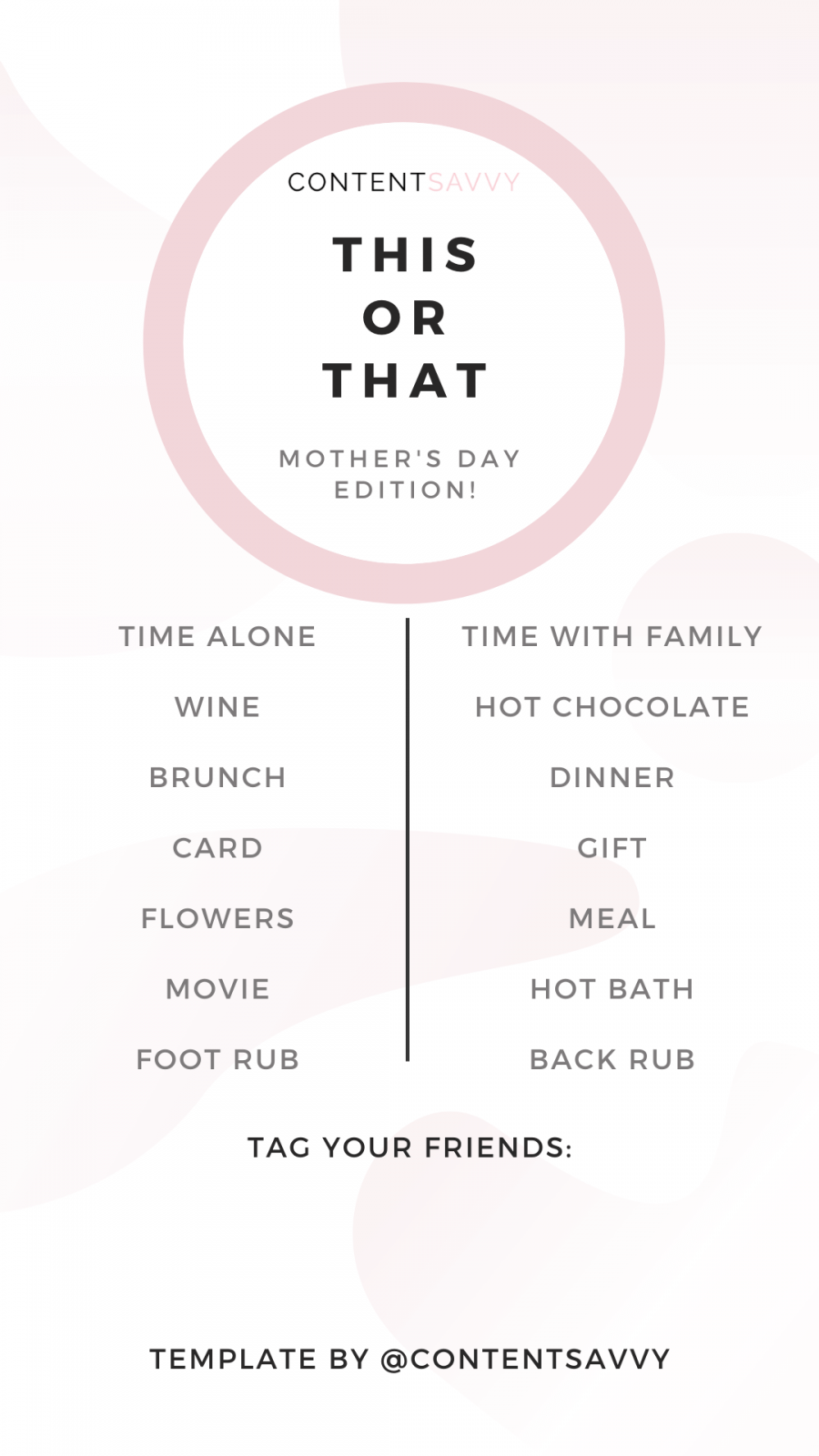 6. Create colouring or activity pages
Since mums with young children will be busy mothering all day with nary a break, give them a chance to take a breather by providing activities to keep the little ones busy! Create a brand-specific collection of colouring or activity pages, and post it up on your website for parents to download and print.
If you sell facial care products, you can create colouring pages featuring your jars and bottles. If you sell clothes, create a paper doll template with a collection of clothes (based on your designs!) to colour in. There are so many ways you can create this content! Bonus points for including a sweet Mother's Day message on the pages too.
7. Share a DIY
Whether it's for mothers or their little children, sharing a Mother's Day DIY activity using your products (or is somehow relevant to your brand and services) is a fun way to share ideas for mums who may be at a loss for what to do on the day.
Ideas for mums include DIY facials or a deep breathing exercise, while ideas for kids include things like how to make a macaroni necklace or how to make a sweet Mother's Day coupon book (think 'one toilet trip alone' or 'half an hour of complete silence and peace' – you know, real things that mums all desperately want).
8. Reach out to mummy bloggers
If you believe your products are relevant to mums and want to reach that audience, mummy bloggers can help you get your name out there! Working on a Mother's Day campaign with mummy bloggers allows you to tap into their following while supporting them by providing products for their own content.
As influencer marketing moves more towards micro-influencers, do your research by looking for influencers with high engagement in their comments – not a huge number of followers who never comment on posts – and those who produce quality content in line with your brand values.
Some extra tips
Engage back! The point of creating engaging content is to open the lines of communication with your audience, so dedicate the time to reach out to the customers who reach out to you. Comment on the photos they share, or re-post them on your grid or your stories! Engage with them in a genuine way so you can begin creating long-term relationships with them and build a loyal community around your brand.
Keep it relevant! Make sure all your content is for mums in some way. Mother's Day is about mothers, so make it something mums can enjoy. If you're doing a giveaway, take the time to curate a prize (or a set of prizes) that is tailor-made for mums in some way.
Ask the right questions! If you want audiences to engage with your posts, you need to encourage conversation. That means asking open-ended questions, like "What does motherhood mean to you?" or even "What would your ideal celebration be if you weren't in isolation?". Avoid yes/no questions at all costs!
Make it meaningful
Mums are often under-appreciated, so let's make this Mother's Day a day of celebration for these tenacious and resilient women. We may not be able to celebrate them in person, but we sure can make some noise on social media!
Looking to create more posts on your Instagram to spark engagement with your followers? We've got a few ideas for you! If you'd like to create content that is tailor-made for your brand, make sure to get in touch with us – we'd love to help you transform your grid and maximise the potential of your Instagram presence!